Fire Dampers
Fire dampers, curtain type, by PCJ, are constructed of galvanized steel sheets, high strength structure, frame shape is modular design to be suitable for mounting in duct line or connecting together with other fire dampers as multiple section. The dampers have been tested and certified for 3 hour fire rating as per ANSI/UL 555 & CAN/ULC-S112. Single Section, Multiple Section, In Airstream, Out of Airstream are available upon request to fulfill most requirements. Size can be made to order up to maximum :
1220 mm. x 1220 mm. (48" x 48") for Single Section
2440 mm. x 2440 mm. (96" x 96") for Multiple Section
We recommend application of our fire dampers for blocking spread of fire passing through duct line, ventilation fan, air louver as well as indoor glass panel, especially large size of glass panel when fire or heat approaches the dampers.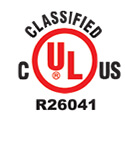 VDO demonstrates function of Fire Dampers, Model : FDC
Fire Damper of PCJ INDUSTRIES CO., LTD. tested for 3 hour fire rating in accordance with ANSI/UL 555 & CAN/ULC-S112 at UL LLC Northbrook, USA